Victoria's chief health officer, Prof
Brett Sutton, has been giving evidence to an inquest into a Covid outbreak at a nursing home that led to 45 deaths. Here's a story on his appearance from
AAP:
Counsel assisting the inquest into a Covid-19 outbreak at a Melbourne aged care home will submit that Victoria's chief health officer had a big knowledge gap when he directed its workforce to furlough.
During Victoria's second wave of the virus in July 2020, 45 residents at St Basil's Home for the Aged died of Covid-19, after regular workers were sent home and replaced by inexperienced agency staff.
There were at least 50 positive cases connected to the home when St Basil's staff were declared close contacts, and state and federal health authorities began working on a plan to replace the entire workforce.
State health chief Brett Sutton has given evidence that in the days before he made the order to furlough staff, he was unaware several doctors had expressed opposition to the plan.
Counsel assisting
Peter Rozen QC told Prof Sutton he would make submissions to the coroner that this was a "very big gap in your knowledge base" in making the public health orders.
Sutton said:
I accept that there is additional evidence that could have been brought to my attention.
The inquest has heard that the day before the handover to the emergency workforce on 22 July, almost half of the necessary emergency workers could not be found, and within hours of the transfer residents had missed meals and medications.
But Sutton said the potential consequences of furloughing staff had to be weighed against additional Covid-19 infections, which were fatal for one-in-three aged care residents.
He said he believed that had he not made the orders, almost all the residents and staff at St Basil's would have been infected, and more people would have died.
Sutton read a statement acknowledging the loss endured by relatives of St Basil's residents who had died.
He said:
I want to express my heartfelt suffering for the sorrow that they have gone through.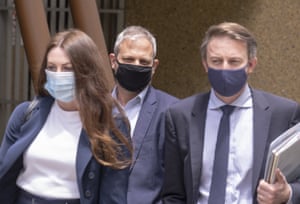 Earlier on Friday, he also give evidence that his orders to furlough staff were conditional, with an "overarching caveat" that a handover would only take place once appropriate replacement workers had been found.
I think everyone understands that if there was no sign of replacement staff on the 22nd, the handover would not take place.
Sutton said that although he had not made any inquiries himself, he had not been told of any specific problems in finding an emergency workforce.
He said the chairman of St Basils' had initially refused to follow health directions, and this held up the health response and likely led to further cases.
Victoria's health department has provided another 2,000 pages of evidence to the inquest as it concludes its second week of witness evidence, with one lawyer telling Victorian state coroner
John Cain that there had been no time to review the documents.
The hearing continues.
Source : https://www.theguardian.com/australia-news/live/2021/nov/26/australia-news-live-update-flood-warnings-as-more-heavy-rain-hits-nsw-australian-police-and-defence-personnel-fly-to-solomon-islands-religious-freedom-gay-students-teachers-scott-morrison-covid-south-africa-variant?page=with:block-61a06c4c8f08de86f451ba43
1440